MAD Z PRODUCTIONS IS NOW CASTING FOR ITS LATEST FEATURE PRODUCTION
HORNY TEENAGERS MUST DIE!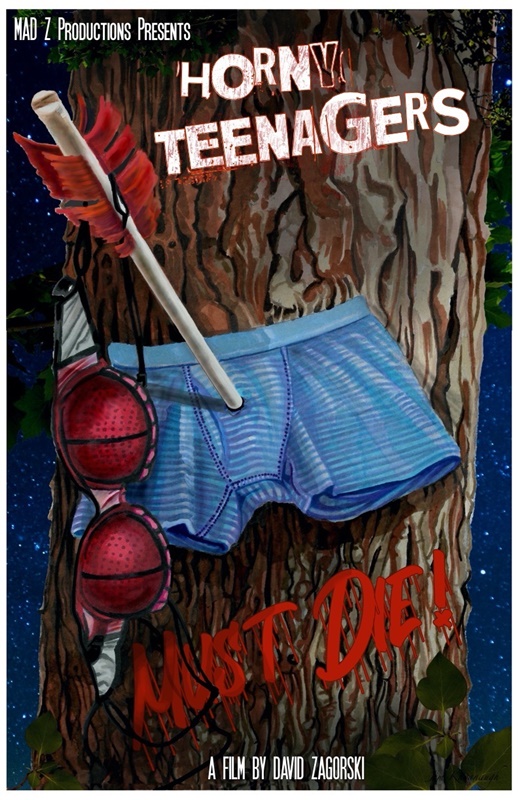 MAD Z Productions is looking for Actors and Actresses for its camp horror slasher flick HORNY TEENAGERS MUST DIE!
We are looking for actors and actresses ages 18-25 who will be available August 2021 and who are COMPLETELY OKAY WITH:
GRATUITOUS NUDITY
DRUG USE
SEX
LESBIAN MAKE OUT SCENES
FOUL LANGUAGE
BLOODY DEATHS
PEZ
(AND REALLY WHO ISN'T?)
Horny Teenagers Must Die! is an over-the-top homage to '80s slasher fare with a difference, pitting a tale of sexual intrigue and weekend hedonism against a violent and bloody dead-teens-in-the-woods backdrop. A group of recent high school graduates head out into the woods for a weekend of sex, drugs and booze-drenched debauchery…only to meet their maker at the hands of a demented killer who uses anything from farm tools to sex toys in a non-stop orgy of eye-popping slaughter. Part pitch black comedy, part body count horror, Horny Teenagers Must Die! fuses the narrative structure of the Friday the 13th movies with the caustic wit of Heathers and the gory, anarchic insanity of cult classics like Re-Animator, Street Trash, Cabin Fever and The Evil Dead.
PLEASE NOTE: Nudity is required for most of the roles, but all roles will be paid. Please see character descriptions below for which roles require nudity. Shooting will take place late summer in Western Mass area. Please send resume and headshot(s) to casting@madzproductions.com
Available roles (All characters are aged 18 unless otherwise specified):
SARA: Tough, smart, attractive, confident. Even though Ryan is bigger than her, she wears the pants in the relationship. Moderate nudity.
JASON: Early to mid 20s. Deputy sheriff. He's well built and mildly handsome. Some nudity.
CARLI: Smart, sarcastic and attractive but self conscious. Partial nudity.